Bright young talents of Raffles Mumbai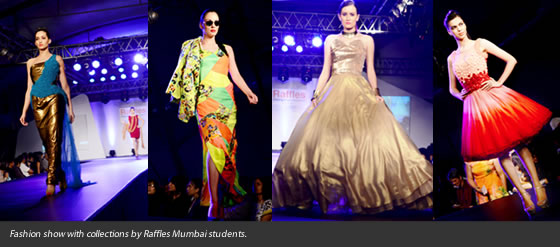 Mumbai, India - A dignified and splendid graduation show was held recently by Raffles Mumbai to recognise its students' achievements and mark the completion of their higher education. Close to 700 guests including parents, students, industry partners and diplomats shared the celebration with these graduating students, who will be embarking on a professional career and shaping the future in the creative arena.
The graduation show held on 19 October 2013 at The Lalit Mumbai comprised a student exhibition and a fashion show. An array of works by both Advanced Diploma and Degree students were showcased. They included innovative design concepts and creative pieces from the departments of Fashion Marketing, Interior Design, Graphic Design, Multimedia Design and Product Design. Raffles Designers - the great designers behind those works - were present to articulate their concepts and ideas to guests. Apparently, industry partners present were so impressed that many Raffles Designers were offered work opportunities on the spot!
Raffles Fashion Design students had their share of glory during the fashion show segment. It was a bold display of garments entailing themes such as "The Great Gatsby", "Leather & Lace", "Denim Reconstruction" and many more. The talented Raffles Designers exemplified their artistic skills and craftsmanship through the use of various types of materials and styles. Even the models doing the catwalk were seemingly proud to parade in these young designers' collections. Their creations have certainly attested to the status of Mumbai as a fashion hub.
The most significant part of the graduation show came when all the students, donned in their convocation gowns and caps, went on stage to receive their certificates from Raffles Mumbai's Academic Director, who shifted the tassel on their caps from one side to the other as a symbolic gesture that they had graduated. That move signified the start of a new adventure for these Raffles Designers who had honed their skills and would go on to become a creative professional.
Besides the pursuit of academic excellence, Raffles Mumbai also develops in students a sense of community. In a recent collaboration with World Vision in supporting underprivileged children, Raffles Designers put their brains and hands together to decorate the child centre. For a more meaningful interaction, they spent time with the children through fun activities. At the graduation show, Raffles Mumbai presented a cheque of Rs.50,000 to the president of World Vision India in support of its cause.
The evening also saw the presentation of design awards to outstanding Raffles Designers. A total of 16 students were recognised in various categories, including the awards for "Bright Young Talent", "Art Group Design Competition", and the "Malaysian Airlines Design Award".
Mr Mike Yam, Vice President of India Operations for Raffles colleges, said, "As a premier education provider, we at Raffles are committed to nurturing creative talents and design management expertise for the arts, design and lifestyle industries. We believe in the acquisition of thorough and effective work methods based on analysis and judgment. We are proud of our Raffles Designers. It was enthralling to see the creativity of these young minds. We wish all graduating students all the best for a successful life."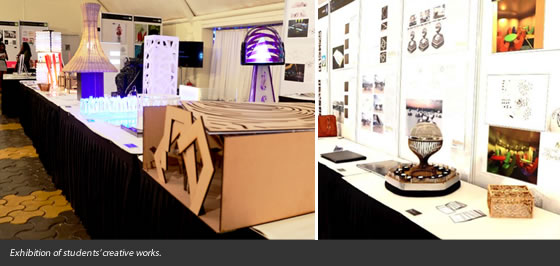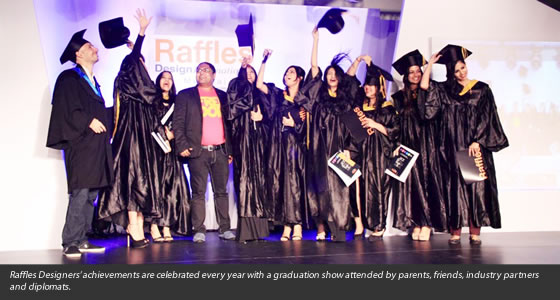 Watch out for this Raffles Designer: Joe Chia
Singapore - Before his eponymous label became famous across Asia, Joe Chia got his start here, in Raffles Singapore. The Fashion Design graduate created his own future while the college had prepared him for success.
From winning Esquire's "Brilliant Malaysian" award, Newman's "Best Menswear Designer" title, to the recent "Top 40 under 40 for Young Achiever Award 2013" by Prestige, the young fashion designer has been attracting much media attention. Other magazines such as StyleMen, Prestige Malaysia, Spotlight, Citabella and MarieClaire Malaysia, also placed Joe Chia on their feature page. On television, he made his most recent appearance on MediaCorp's Channel U programme, Style: Check In, which is an infotainment that introduces the trendiest lifestyle and news bites in Singapore and Shanghai.
As his work started to catch the eyes of international brands, he received invitations from some of them, asking for collaboration.
Recalling his experience with UNIQLO, Joe said, "It was early this year when I got a mail from UNIQLO on my way to the office. I read the mail twice because I couldn't believe my eyes! Immediately after I confirmed what I read, I screamed loudly in the car! It was an ASEAN project in which a designer from each country was to be chosen to design T-shirts for UNIQLO. I was ecstatic and felt honoured to be part of this project with such a renowned company."

Joe also got a pleasant "shock" when he was approached by G-SHOCK to design a limited edition watch to commemorate its 30th anniversary. Only 100 pieces were retailing in Kuala Lumpur, Malaysia. The watch company's celebration also included "SHOCK THE WORLD" event, where Joe's new SS14 collection was showcased on the runway. He was also invited to present his new collection in Tokyo, Japan.
Across the region, Joe's collection can be found at Coda. Co in Scotts Square (Singapore), ODD store in Sungai Wang Plaza (Kuala Lumpur, Malaysia) and Immense in Taipei (Taipei, Taiwan).
"I'm thankful to Raffles Singapore for opening the door of opportunity for me. Back then, I was a participant of an annual charity fashion show organised by Raffles Fashion Marketing students when I met the fashion guru Daniel Boey. After the show, Daniel came backstage and we had a chat. From there, he introduced me to Coda. Co and so I started to retail my collection at a fashion boutique," said Joe.
To his juniors who are pursuing their studies at Raffles Singapore, Joe offered some sound advice. He said aspiring fashion designers should be prepared to work hard and be nice to people. He added, "Never stop believing in your dreams, design your success and turn them into reality."
Spoken like a true-blue Raffles Designer… for at Raffles, Success is by Design.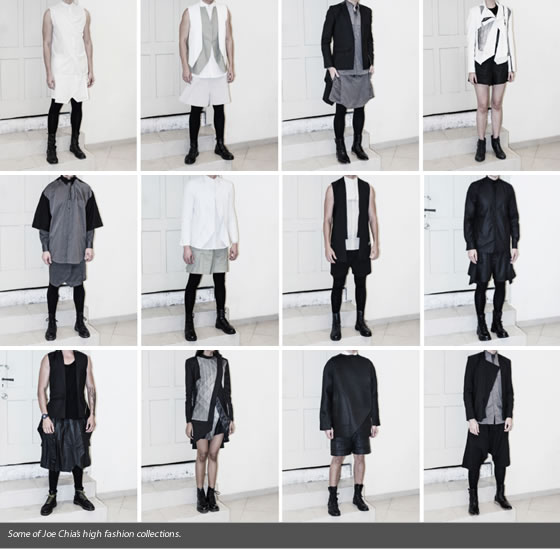 Raffles Bangkok students travel to Tokyo for international experience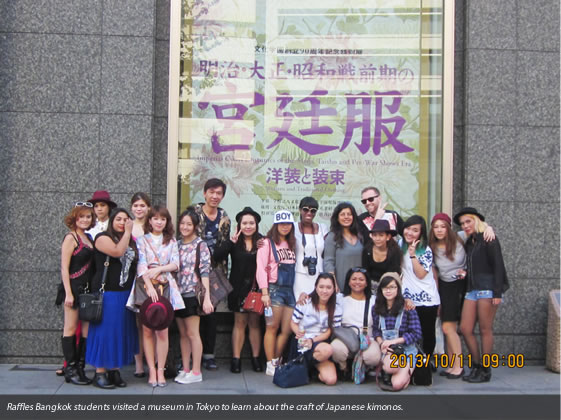 Bangkok, Thailand - Instead of relying on photos to explore the latest fashion trends and hunt for inspiration, Raffles Bangkok recently brought 23 students from its Fashion Design and Fashion Marketing departments to the fashion capital of Japan to take in the sights and experience the styles firsthand.
Fashion Design Programme Director Miriam Varghese said, "Our students will be exposed to different cultures, lifestyles and various aspects of fashion in a foreign land, all of which are completely different from what they experience in Thailand. This time we decided on Tokyo in Japan, as it offers an enormous variety of fashion aspects and design principles, along with a well-preserved cultural heritage. The fact that Tokyo is also known as a shoppers' paradise to fanatics of both ready-to-wear and couture collections is certainly an added advantage."
The one-week Tokyo field trip was led by Miriam and several creative practitioners from the Fashion Design and Fashion Marketing departments. Their fashion-focused itinerary included visits to museums and the busy shopping districts.

At the Ota Memorial Museum of Art on woodblock printing, the students observed how wood blocks were engraved and how to make various colours in one print by using several blocks of the wood. A visit to the Museum of Contemporary Art and Museum of Art and Crafts on Japanese kimonos was certainly mind-blowing, as the students got to look closely at the intricate design of a kimono and admire the meticulous precision of sewing and perfect alignment of the prints.
As a center of world-renowned fashion brands, Ginza was not to be missed, with numerous international brands such as Comme des GarÇons, Martin Maison Margiela, Dolce & Gabbana, including flagship stores of Uniqlo and Abercrombie & Fitch, in the district. The students learnt about garment designs from around the world and observed how these brands became successful in the world's fashion markets. The spacious Abercrombie & Fitch flagship store for example gave the students an amazing experience of fashion marketing and brand differentiation because of its unique store design and impeccable service.
The students were very much inspired by what they saw and experienced in Tokyo. They agreed that they could apply some newfound knowledge in their work.
Miriam said, "We aim to organise an overseas trip once a year for our students to gain more international exposure."

Re-Creation is the aim of Raffles Delhi's Recycle Denim Workshop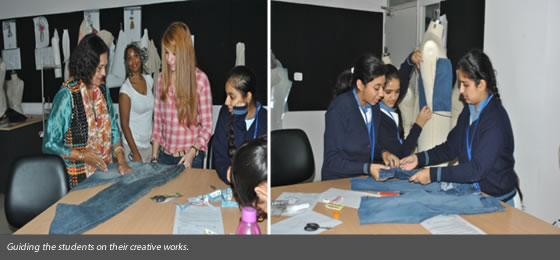 New Delhi, India - With a bit of creativity and some inexpensive trims and embellishments, old jeans can be given a new life to become stylish denim bags, beautiful corsets and skirts, as well as a variety of trendy accessories. This 'magic' was performed at the "Recycle Denim Workshop" conducted by Raffles Delhi for a group of students from Mater Dei School on 16 November 2013.
The students were very excited when they arrived at the Delhi campus. They were first given a tour of the campus to gain a better understanding about the various design disciplines that Raffles Delhi offers to budding designers. Later, they were led to a classroom where they got to exercise their creativity and handicraft to recycle old jeans. Three teams were formed to vie for the best design.
Under the guidance of creative practitioners from the Fashion Design and Fashion Marketing departments, the students ripped the jeans apart and started to make their desired garments and accessories. In order to determine the final winner, the students had to do a presentation to convince the judges to buy their products.

It was not important who won the contest; the students were only too happy to be able to recycle old jeans and improvise them into something different, something that they created with their own hands.
One of the students, Mahera Salman, said, "The lecturers conducted the workshop really well. We had so much fun!"
Another student Shivangi Nanda agreed. "This is the first design workshop that I have attended. I hope to attend more workshops by Raffles!"
Their teacher was equally impressed. Mrs Pratima Goyal said, "It was an interesting and creative workshop which would let our students know about the opportunities in the area of design. I will share this piece of exciting news with our principal and introduce more students from our school to attend future workshops organised by Raffles Delhi."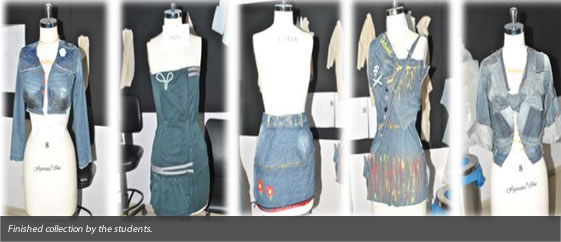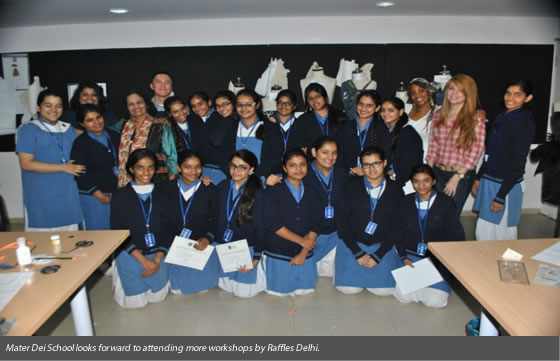 Raffles Singapore students showcase collections at Jakarta Fashion Week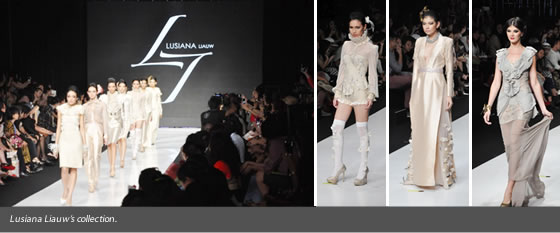 Singapore - They may only be students, but one would deem them to be on par with world-renowned designers when these Fashion Design talents from Raffles Singapore showcased their collections at Jakarta Fashion Week, one of the largest fashion shows in Southeast Asia.
The annual fashion event held at Jakarta's Senayan City - a world-class shopping mall - serves as a platform for budding and established designers to present their creations to the world.
Last year, Raffles Singapore's Jessica Tjiptoning showcased her "Meiji Ishin" collection inspired by the struggle for harmonisation in Japan during the Meiji restoration period. This year, there were three Raffles Designers: Catherine Sorepadhi with her "ABOCS" label, as well as Lusiana Liauw and Steffie Setiawan, each with their own eponymous label.
Catherine's collection of "The Artist's Muse" revolves around the obsessive love that numerous famous muse-artist relationships are known for. She said, "I wanted to show how an artist can be attracted to a particular muse, and how that attraction can slowly grow into fame and fortune."
For Lusiana, her "Lady Georgiana Spencer, the Duchess of Devonshire" collection strives to explain how an inspirational woman can change and shape other women's attitudes, and how women can be filled with power through a variety of nude and beige feminine colour tones with embellishment and craftsmanship.
The idea for Steffie's "The Savants" collection was born from her views that there is a fine line between creativity and insanity. "Famous geniuses such as Albert Einstein, Yves Saint Laurent, Beethoven, Vincent Van Gogh, Leonardo Da Vinci and M.C Escher, have all displayed a certain social awkwardness or quirkiness. Their perception of the world must have been different from the rest to be able to create their famous inventions, innovations and artwork. Unfortunately, they tend to be misunderstood by most people. They were autistic savants who were being labelled 'freaks' and 'weirdoes', and shunned by people," shared Steffie.
From designing to dressing the models in their collections, the students put together everything themselves. It was not easy, but they earned deserving recognition; audiences at the runway show were praising their creations to the skies. The students were also exposed to the many great works of other designers, and through such exchange, they have built relationships with many industry professionals.
Apart from seeing the participation of current Raffles students, Raffles alumnus Petrick, who is now working at Luna Maya Hardware, a local brand in Jakarta, also presented his team's collection at the Jakarta Fashion Week.
Petrick said, "I am excited to see our work on display at this important fashion event and receive recognition from people in the fashion industry. I feel so privileged to be a Raffles alumnus."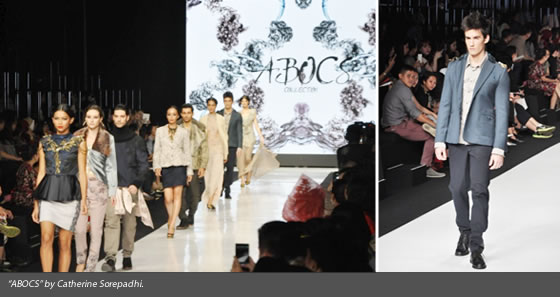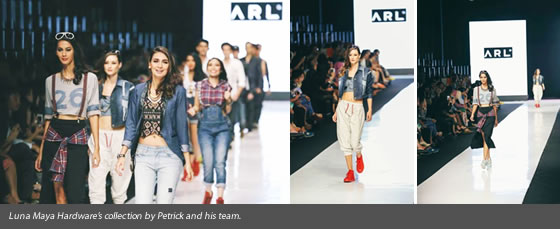 Creative design solutions by Raffles Mumbai students clinch
several awards at notable competition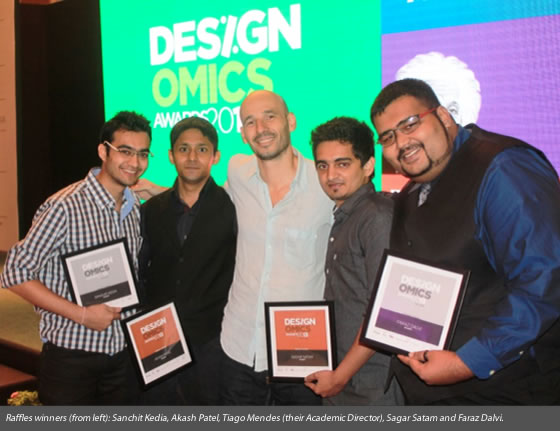 Mumbai, India - Raffles Mumbai students swept up four awards at India's first and only design competition that celebrates creative design solutions for businesses. The Raffles winners from the Product Design department garnered two Silver and two Bronze awards at the "Designomics Awards" held on 23 October 2013 at The Taj Hotel. Congratulations to the winners! Here is a showcase of their winning designs.
Silver Award: Sustainable Furniture Concept by Sanchit Kedia
The coffee table and its accompanying chairs is a set of furniture that exists in most homes. It is also one of the most utilised furniture in a typical house. Sadly, many people use it but not much attention is paid towards the sustainability of this furniture. In this design concept, sustainability as well as versatility were key criteria in the thought process. We want the furniture to be an anchor piece showcased within the living room.
"Futura" is a set of furniture made from mushroom material. It comprises a coffee table and two pieces of chairs. The use of mushroom material makes the furniture completely recyclable and biodegradable. It can undergo repeated processing and extends its versatility to be re-made into other designs.

Silver Award: The Oasis by Faraz Dalvi
The office cubicle has been one of those designs that history seemed to have forgotten. Offices today are fitted with the latest cutting edge technology, but when it comes to the workspace, people are still subjected to working in a 6ft by 6ft box. A lot of research was conducted during the development phase of this product and many negative points were found to exist in the design of current office cubicles. Health factors were a primary issue and hence the need for a redesign of the office cubicle. This product is aptly named as "The Oasis" because it provides a sanctuary for the worker amid the hustle and bustle of the office at the flick of a switch. The design enables shutters to be closed, giving one an isolated work space where work can be done in peace. If interaction with others is required, the shutters can be raised again. This feature eliminates the need for fixed cubicles in an office. The Oasis enables mobility and offices can be configured to optimise space.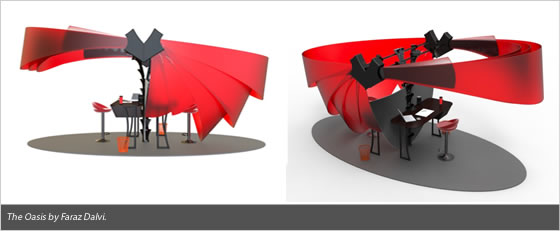 Bronze Award: Persono Modular Coffee Table by Sagar Satam
The design of the "Persono Modular Coffee Table" draws inspiration from the centipede. The different sections of the body enable the centipede to adapt its movements to the terrain. Similarly, the design concept enables the user to configure the table into various positions for different uses. An illustration of the product shows the versatility in configuration. The actual product is made from compressed wood and heated to form its sectional shape. Therefore, each section is a singular entity which can be utilised individually or hinged upon other sections to a choice configuration. The design of the Persono Modular Coffee Table aroused much interest from the industry. This stems from its simplicity and versatility. Raffles Designer Sagar Satam was interviewed on a local news channel for his innovative work.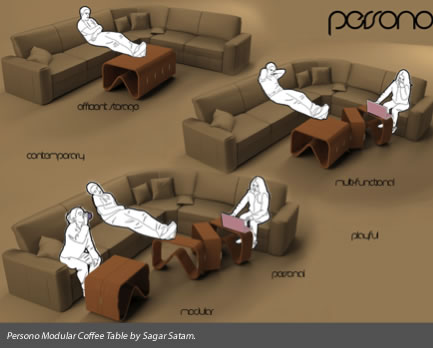 Bronze Award: Over-shield Mugs by Akash Patel
Everyone holds a mug like they would hold a glass. It is simply more comfortable and stable. When it contains hot liquids, one cannot hold it like a glass. The design of the "Over-shield Mugs" solves the problem, enabling one to hold the mug like a glass; even with hot liquids in it. The Over-shield Mugs exploits the thermal properties and intrinsic characteristics of ceramic. This material acts as a shield, maintaining the external surface of the mug at room temperature and slows down the cooling of the hot liquid content. Ceramic is a malleable material and can be moulded easily and economically. It is also robust and durable enough for this application. As Akash Patel intends to patent his design, no illustration of his design can be provided.


Here's another successful alumni story from Raffles Singapore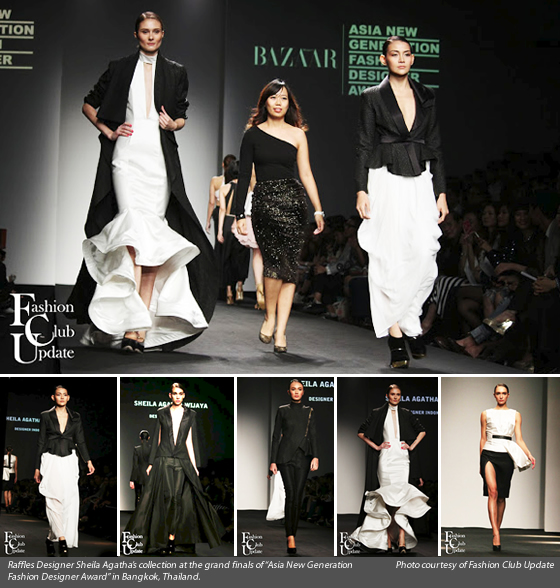 Singapore - Raffles Singapore alumni Seah Loh and Sheila Agatha were the proud winners of the inaugural Harper's Bazaar "Asia New Generation Fashion Designer Award" for Malaysia and Indonesia respectively. They were in Bangkok recently to showcase their collections to compete at the grand finals with other winners from Thailand and Singapore.
The two talented designers were excited about the fashion show in the Thai capital. Not only was it an honour for them to represent their own country in the international competition, but it would also mean that their designs are of world-class standards.
An in-depth interview with Seah and Sheila revealed their passion for fashion design.
Why did you choose to pursue a career in Fashion Design?
Sean: I used to envision myself as a film director, because I hoped to tell a good story and create memories that people will remember. Besides storytelling, I love clothes too. Hence, I thought I could tell stories through my clothes and designs. So here I am, carving out my career as a professional fashion designer. Movies, stories, art, expressions and music are the sources of my inspirations, which in turn motivate me in fulfilling my dream of starting my own fashion empire.
Sheila: I think that fashion designers are constantly putting every idea they have into their collections; they take care of their collections like their babies. That is what motivated me to also become a designer, creating designs that I truly love and injecting my feelings into the collection. I hope that people will see my design as art and not just clothes. My goal is to become a well-known international designer.
What are your design styles?
Sean: Romantic, melancholic, sleek and emotional.
Sheila: Elegance and feminine is my signature style. I always add some 'softness' to my design with soft fabric.
How can taking part in competitions, such as the "Asia New Generation Fashion Designer Award", help you hone your skills?
Sean: I want to have my own fashion empire one day. However, to be honest, many young designers are afraid of forming their own label due to the fear of trying something indefinite and the lack of extensive knowledge in marketing. This competition has got me to learn how to market my label. Knowing how to conduct market research and execute marketing techniques are very important for a fashion designer to succeed in the industry. The competition was also a good opportunity for me to practise my craft and enjoy the process of creating a collection.
Sheila: Fashion Design is not just about designing; there are the marketing and advertising aspects. As a new designer who aspires to have my own label, it is even more crucial for me to learn how to make my brand famous. Through this international competition, I hope to let more people recognise my designs.
What was it like at the grand finals in Bangkok?
Sean: The works produced by designers from Singapore, Malaysia, Indonesia and Thailand are very different because of cultural differences. Some of the grand finalists do not even major in Fashion Design but in Engineering or Architecture. Some may think shapes are important, but others may think the type of fabric used is more crucial. Overall, the competition was well organised with many talented designers, bloggers and media attending the event. I even had the opportunity to network and exchange pointers with some renowned designers over dinner.
Sheila: It was a grand fashion show with very professional designers and models participating. The stage lighting was even customised for each designer according to his or her creations. I was very honoured to be able to represent Indonesia to take part in this competition.
Any advice for your juniors at Raffles Singapore?
Sean: Quoting Alexander McQueen - "You can only move forward by making mistakes."
Sheila: Understand yourself as a designer. Be yourself and keep your will strong so as to face challenges that lie ahead.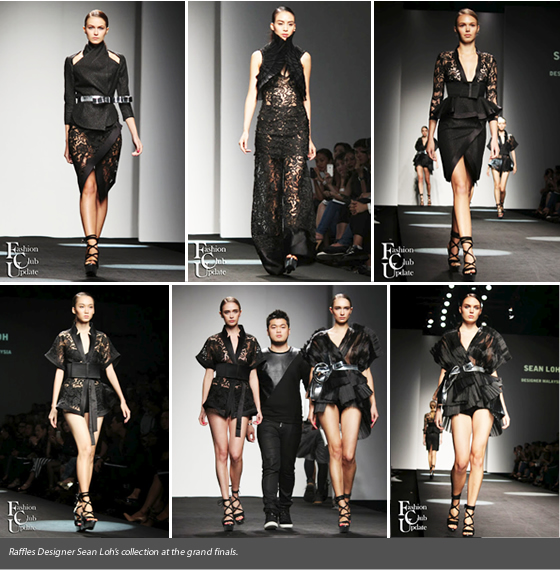 Raffles Delhi helps students find their dream jobs
New Delhi, India - The resume is a primary tool in landing that first interview. To help its current and graduated students accentuate their flair and talent to potential employers, Raffles Delhi recently invited Jobma, a US-based online job portal, to expose them to the job market and support their search for employment.

The portal seeks to help job seekers enliven their resumes to attract potential employers. One particular interesting concept introduced was the video resume. By creating a Jobma profile, users can include their conventional resumes with videos on a social media platform. This gives individuals a chance to showcase their hard and soft skills, thus adding a personal touch to their applications.
Drawn to its unique and expressive features, the participants immediately got down to filming and uploading their video resumes.
Raffles alumna Twinkle Jain, who studied Interior Design, said, "The video resume is an interesting concept and I hope it will work for me. I can express myself better through a video."
Interior Design student, Harjot Kaur Gill, said, "I am a bit shy and so a video resume can help me to express myself better. Moreover, what we say in the video has to be short and sweet. It only takes a few minutes to upload the video."
Raffles Delhi aims to help its students and alumni create an effective resume to get their talent noticed by their targeted employers. This is the first step in paving the way to a flourishing career.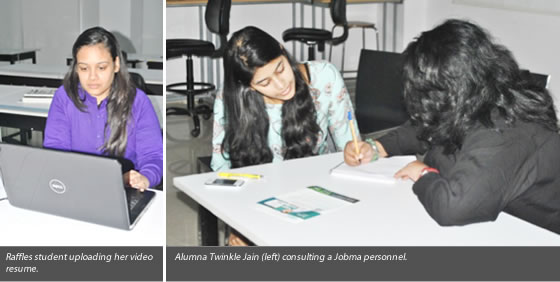 Raffles Singapore student wins design award and earns a study trip to Tokyo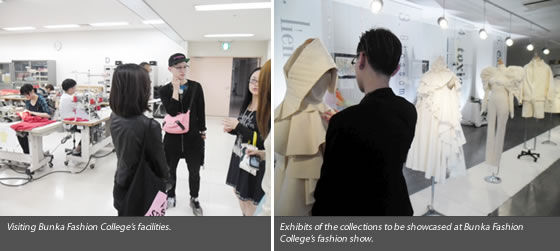 Singapore - For his win at the "3rd Japan Creative Centre Sustainable Fashion Design Contest", Raffles Singapore student Chen Zhipeng earned a sponsored study trip to Bunka Fashion College in Tokyo for cultural and fashion experience.

On the first day, Zhipeng was introduced to the learning environment at Bunka Fashion College, which he felt was very different from that of Raffles Singapore. Teamwork is prevalent in Japan, as can be seen from the process of designing the collection to producing the finished garments. At Raffles Singapore, each student is required to work independently.

At the college's Fabric Technology Lab, Zhipeng was fascinated that students can develop their own fabric, such as a customised fabric for sportswear, at this facility. After which, he was led to the Bunka Gakuen Museum, which displayed a huge collection of kimonos, traditional ceremony dresses and modern formal gowns, of which each has amazing minute details and fine craftsmanship.
His visit coincided with Bunka Fashion College's 90th anniversary celebration. One of the biggest events was the fashion show put up by the students. Zhipeng had the opportunity to admire their collections and go backstage to observe how the fashion show was being carried out.
"The visit to Bunka Fashion College was an amazing and fulfilling experience. Not only does the college have advanced facilities, the students are also fashionably dressed in their own style," said Zhipeng.
Outside the fashion college was also a learning ground for Zhipeng. He visited Shima Seiki to see how its advanced technology and machineries can knit fabric into an entire garment. The "Tokyo Designer Week 2013" took place during his visit and so he went to view the impressive works for his own inspiration and enhanced learning. He was so inspired that he even created a wire art for the display wall at the event! As a fashion designer, he could not miss the chance to leave his footprints in Ginza, as well as Harajuku, the center of Japan's most extreme teenage cultures and fashion styles. He also went to the fabric district of Tokyo in Nippori to purchase fabric for his next collection.
Zhipeng was glad to be given the opportunity to learn about the Japanese culture and fashion. Raffles Creative Practitioner Arzelle van der Merwe, who joined him on the study trip, said, "The entire trip was an eye-opener for Zhipeng because we got to see many extraordinary works with high standards. With this great exposure, his talent for design will continue to shine through."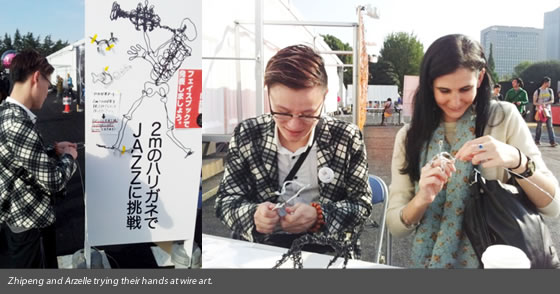 Raffles Singapore clinches top design awards amid tough competition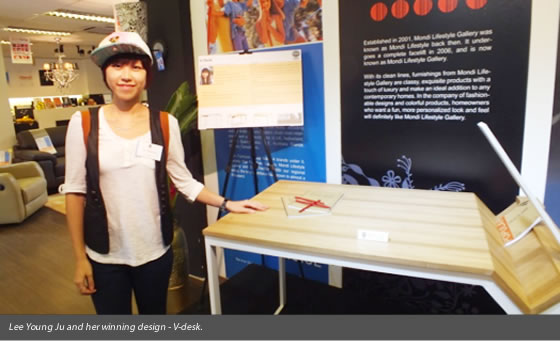 Singapore - Two Product Design students from Raffles Singapore have done the school proud with their collective wins at "The D'STAR Design Award - Your Platform to SHINE" competition, amid a large number of high quality entries from budding talents in Singapore.

Lee Young Ju and Ananda Annisa Prasetyanto won the first and second runner-up awards respectively at this inaugural design competition launched by Star Furniture Group, an integrated manufacturer, retailer and exporter of household furniture. The competition aims to uncover budding furniture design talents and give them a platform to experience the whole process of designing, prototyping and finally producing their furniture pieces.

The judging panel, made up of industry leaders, lent further credibility to the quality of the winning entries. The judges were management personnel from the Design Development of Singapore Furniture Industries Council, Design Singapore Council, A Balcony

(a furniture retailer) and Star Furniture Group.
Young Ju's V-desk won the judges over with its simple yet practical design. On her design, the young Raffles winner said, "I always prefer simple and functional designs. V-desk is designed in such a way that it suits people who have problems organising their desks."
The other Raffles winner Ananda shared that her arm chair design, KORY, was inspired by the shape of a triangle. "I am a big fan of modular design. I always try to design products that can be stored in small spaces or be placed in different manners. Buyers can then experience the use of the product frequently and re-decorate their living space. I also like minimalistic design. I would match my design with vibrant patterns, especially one that requires the use of fabric," she said.
Mr Amos Goh, Furniture Designer and the mentor for Ananda and Young Ju during the competition, also had praises for them. He said, "Their concepts are very interesting. The designs are creative yet practical, and they address the user's needs in providing a more comfortable lifestyle."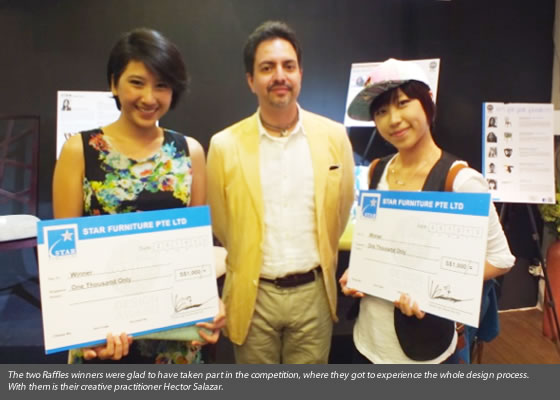 Raffles Delhi and Raffles Mumbai celebrate Deepavali in full swing
India - Deepavali, the festival of lights, is India's most important celebration of the year. Even if Deepavali is celebrated differently in different parts of India, what remains true and constant is the celebration of life, its enjoyment and goodness.
At Raffles Delhi and Raffles Mumbai, the campuses were decorated with beautiful lights and candles to celebrate the festival. Each campus also held its own celebration for students and staff, who came dressed in beautiful traditional Indian costumes.
At Raffles Delhi, there was the Diya Lighting Ceremony, which was graced by staff members to signify the triumph of good over evil. Creative juices of the artistic students spilled over to the decorative designs made on the floor for the rangoli contest. Another contest - Best Ethnic Wear (for male and female) - also displayed the impeccable fashion sense and creativity of Raffles Designers and staff. Generous prizes for both contests were given out to reward their creativity and spontaneity.
At Raffles Mumbai, the celebration started with pooja, which is a ritual to seek blessings and good tidings for the new year. Rangoli designs made of coloured powder also decorated the floor. A wishing wall was built in the campus to give students and staff a place to express their wishes for the new year. The students were also given the opportunity to hawk their wares in makeshift stalls. Cupcakes, chocolate bouquets, cookies, brownies and even handicraft items such as candle stands, picture frames and decorative stationery were put up for sale.
Great music and plenty of sumptuous food also hyped up the festive atmosphere. Everyone certainly had a great time in welcoming an amazing start to the new year!
At Raffles Delhi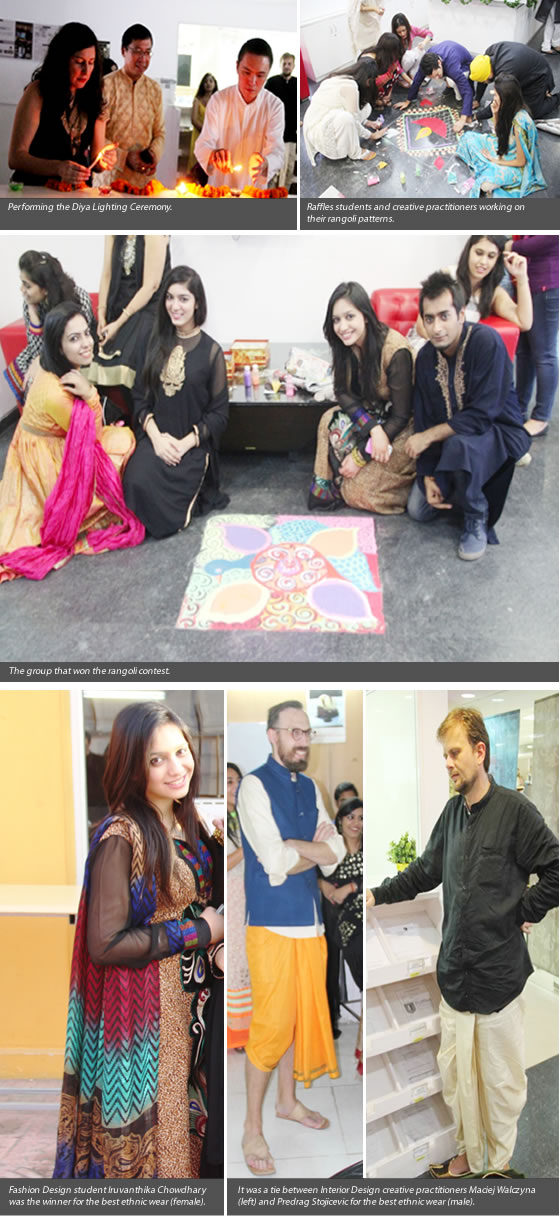 At Raffles Mumbai


Hear from the experts, see the real thing

Singapore - There is a plethora of books on antiques and estate jewellery, but none beats the opportunity of being able to hear from the experts themselves. Jewellery Design students from Raffles Singapore had this rare opportunity recently when they attended a seminar by two established gemologists on antique jewellery, where the market for it is mostly in Europe and America.
Mrs Marta Alcolea is a member of numerous organisations and associations in art and jewellery in Spain and America. Her company Marta Alcolea itself is a collector's paradise, offering a wide selection of vintage and antique pieces endorsed by many jewellers, experts and appraisers. Together with Mr Manuel Contreras, a gemologist and appraiser, the two experts covered the core aspects of antique jewellery and gave the students the opportunity to examine some precious antique jewellery pieces that they brought with them.
Raffles Creative Practitioner Paula Garcia Silvan shared that the students could learn much from the seminar. "As the market for antique jewellery is mostly based in Europe and America, the talk gave Raffles Designers useful knowledge and insights on this specialised field. It is a very good exposure for our students," she said.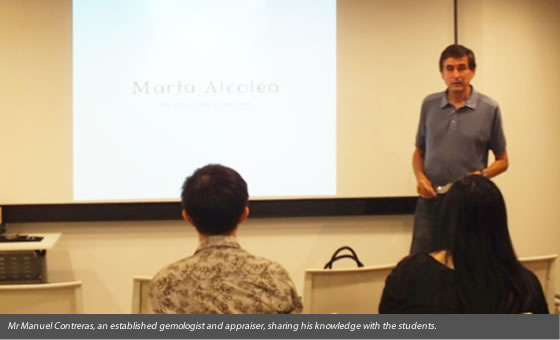 Raffles alumnus visits alma mater and shares his success story
Singapore - Many graduates of Raffles Singapore are making an impact in the fields of design, fashion and business. And many of them, being appreciative of the college which has provided them with the skills and knowledge to succeed in life, are willing to share their stories at their alma mater. Lawrence Chong is one of them.
The Raffles alumnus is Co-Founder and Chief Executive Officer of Consulus, an innovation consultancy with a global presence. Lawrence was also the former president of Design Business Chamber Singapore. He is highly experienced in presenting talks and sharing his thoughts on branding, business and design. Being an international speaker with diverse consulting experiences in the corporate world, he presented not only in various global events such as World Marketing Summit and World Brand Congress, but his thoughts are also published in several regional media such as Scoopasia, Ceylon Today and The Columnist.
On 4 November 2013, Lawrence gave a talk at his alma mater to a class of Interior Design students, providing insights on the relationship between design and business, which is a crucial factor for industry professionals. The audiences were engrossed in the thought-provoking topic that encourages them to look beyond the business and be in search of the value and purpose behind each design concept.
Kiesky Vernandes, one of the students who attended the seminar, said, "The most invaluable lesson that I have learnt from this talk is to justify value. It is one of the success factors in maintaining the company's growth."
Another student Bong Vern Lin gathered from the talk that "a good designer is not just innovative, but also sees the value and purpose of the designs, and knows where the designs will lead to".
It seems the Raffles alumnus has inspired the next generation of students and that they have chosen the right path - Raffles Singapore - to achieve success.


Raffles Singapore supports Singapore Good Design Mark
Singapore - Three Fashion Designers from Raffles Singapore have set themselves as an example of design excellence in Singapore. They recently showcased their fashion collections at the official launch of "Singapore Good Design Mark" by the Design Business Chamber Singapore, in which the objective of the initiative is to encourage good design practices, thereby raising the profile of Singapore design locally and globally.
Raffles Singapore has been a close collaborative partner of the Design Business Chamber Singapore, and so both decided to work together again to launch the event with a bang. The three *Raffles Designers who had indeed made an impression on the guests with their creations were Afton Chen, Eve Tan and Tsai Ming Hung. They displayed collections of their own label "Reckless Ericka", "Eve Tan" and "Mr. Howard" respectively.
Close to 120 guests from the design and business sectors came to support the event at the new National Design Centre in Middle Road.
Raffles Singapore is proud to be a supporter of the Singapore Good Design Mark, sharing the same aspiration of setting high standards of designs made in Singapore.
*More on the Raffles Designers:
Afton Chen
"Reckless Ericka" by Afton Chen made its debut at a fashion show at Audi Singapore's Fashion Festival alongside fashion bigwigs Vivienne Westwood, Christian Lacroix and Gareth Pugh. In 2010, "Reckless Ericka" was ranked 23rd by The Straits Times as the "Top 50 Faces to Watch" in 2010. The first standalone boutique was opened in June 2010.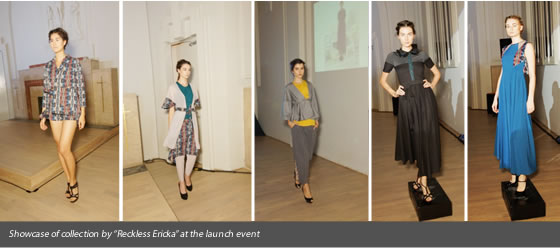 Eve Tan
A graduate of Raffles Singapore with a degree in Fashion Design, Eve Tan represented Singapore in the "Aquafina Fashion Show" in Vietnam in 2009 and won the "Best Collection" award. She was also a finalist at the notable "Triumph Inspirational Award" in 2009.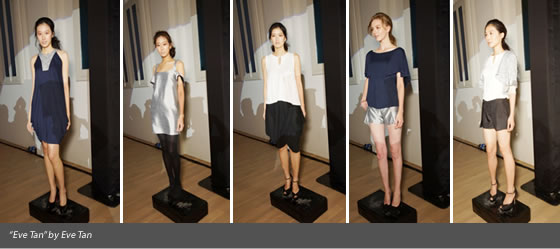 Tsai Ming Hung
Born in Taiwan and raised in Singapore, Tsai Ming Hung found his true calling as a fashion designer when he was awarded the "Asian Young Fashion Designer" award at the "Singapore Fashion Week" in 2006. Subsequently, he graduated from Raffles Singapore with First Class Honours and won the "Top Student Award". He proceeded to represent Singapore in various international competitions and has gone on to win numerous awards.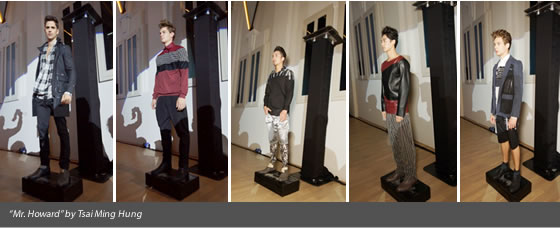 Painting a rosy picture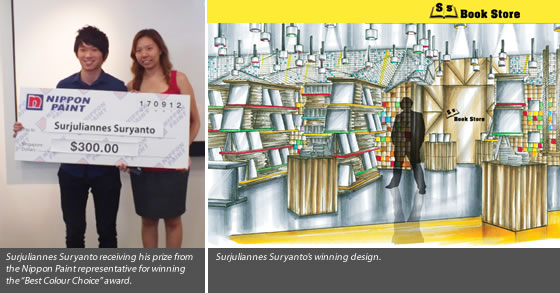 Singapore - With his clever use of colours in the interior design of a bookstore, Raffles Singapore student Surjuliannes Suryanto walked away with the coveted "Best Colour Choice" award at an annual design competition organised by Nippon Paint.
The "Nippon Paint Young Designer Award" was first launched in 2008 to inspire interior design and architectural students to be more innovative and creative. This year, young designers are invited to "RE: THINK and RE: CREATE" any existing space with innovative and sustainable design elements to improve the overall living condition of the community.
"It was a tough competition, but I am really satisfied with my work and am glad for such an experience," said Surjuliannes. "The competition has enhanced my knowledge on sustainable design and its materials," he added.
The Interior Design student also thanked Raffles Creative Practitioners, Rosah Lopes and Louis Albert Dube, for imparting their industry knowledge and providing patient guidance.
Rosah was equally happy for Surjuliannes. She said, "I am really proud of him. He is a very driven, passionate and diligent student."
Rosah encourages students to participate in more of such competition to gain practical experience and enhance their portfolios. She added, "This competition is a great platform for any student since it not only gives them a sense of accomplishment, but also acts as a tool for them to express their ideas."

Welcome new students from Indonesia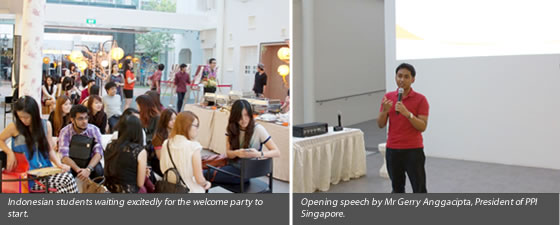 Singapore - Indonesians are a fairly large group among the international students in Raffles Singapore. Taking advantage of Raffles' Global Advantage, where a flexible inter-school transfer scheme allows students to study at any of Raffles' network of colleges, more freshmen and transfer students of Indonesian nationality have joined the Singapore campus recently to immerse themselves in different cultures and experience overseas living. These transfer students are current students from other Raffles colleges, who have opted to complete the final year of their degree programme in Singapore and in the process, gain an international perspective in the course of their education.
To help the Indonesian students assimilate into their new environment, Raffles Singapore's Indonesia club, PPI-RDI, organised a welcome party for them to make new friends and have an enriching student life overseas.
The event was launched by invited guest Mr Gerry Anggacipta, who is the President of PPI Singapore, an Indonesian student association in Singapore and affiliated to the Indonesian Embassy. A host of activities was lined up for students to mingle and widen their social circles.
At Raffles, adapting to a new school environment is not so stressful after all.


Spooktacular Halloween party
Singapore - One frightful night, vampires and zombies were seen roaming around the Raffles Singapore campus. Leading the group of undead was the Raffles Student Executive Committee, which organised the "Fright Night Halloween" party for students and faculty members to have a frightening, but fun-filled time together.
Everyone came dressed in intimidating, spooky costumes, hoping to win the "Best Dressed" and "Most Creative Costume" awards. As if their presence did not make the atmosphere chilling enough, there were muted horror movie screening, scary boxes and even a terrifying video game created by the Animation students.
Everyone had a 'spooktacular' time on this frightful night.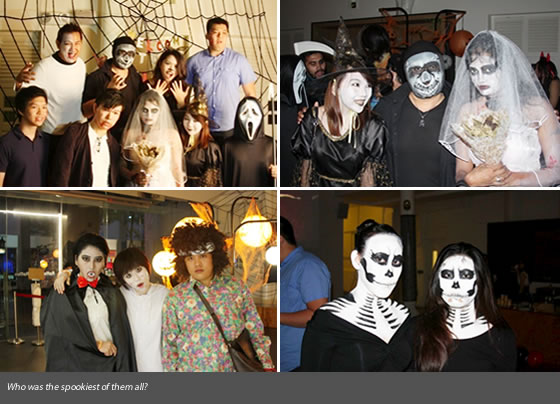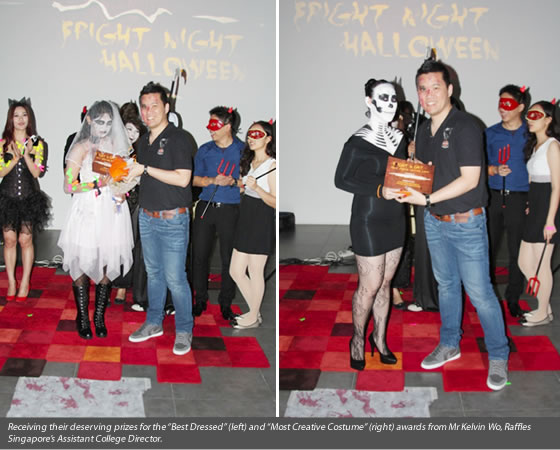 Coming up next: The Raffles Entrepreneur
Singapore - Even though the creative practitioners at Raffles Singapore are already experts themselves, sometimes it is refreshing to have someone outside the classroom to communicate the subtleties of a topic to enhance student learning. That is why Mr Tan Hai Tat, a successful entrepreneur, was recently engaged to provide insights on the compelling topic of online entrepreneurship.
Mr Tan is the founder of HT Zone, Network Technoprise and Leisure Readers. He is also the director consultant of Business Network International, Singapore and the founder of BNI Breakthrough Chapter. Mr Tan has been an active grassroots leader since 2002, serving in Toa Payoh South Community Club Management Committee and Youth Executive Committee.
Speaking to a class of Innovation and Entrepreneurship students on "The e-commerce Platform for Entrepreneurship", Mr Tan outlined how technology can have a huge impact on online entrepreneurship as it becomes more influential in today's globalised world.
Raffles Creative Practitioner Isaac Leung was pleased to have Mr Tan speak on this interesting topic. Isaac said, "Through this seminar, our students will gain further knowledge on how e-platforms can be great tools for entrepreneurship, and how they can have an impact on conceptualisations and innovations."